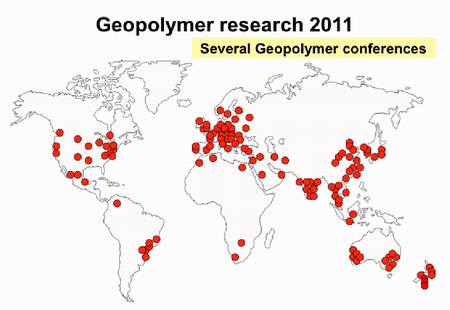 Selected list of laboratories and institutions involved in R&D projects on geopolymer science and technology (in no particular order)
If you wish to be listed, please write us. To fight against junk mail, replace @ by # .
Australia
CURTIN, University of Technology
School of Engineering
GPO Box U1987 Perth, Western Australia 6845, Australia;
Professor RANGAN Vijay,
phone: +61 892667048 ; fax: +61 892662681 ;
e-mail: V.Rangan#curtin.edu.au
Prof. Arie van Riessen
Director – Centre for Materials Research, Program Leader – Geopolymers for CSRP
Curtin University of Technology
Building 301, Office 145, GPO Box U1987, Perth, WA 6845, Australia;
phone: +61 892667090 ; fax: +61 892662377
e-mail: a.vanriessen#curtin.edu.au
web: www.curtin.edu.au
University of Melbourne
Department of Chemical Engineering
Parkville, Victoria 3052, Australia
Prof. VAN DEVENTER Jannie
phone: +61 393446620; fax: +61 393444153
e-mail: jsj.van_deventer#chemeng.unimelb.edu.au
web: www.chemeng.unimelb.edu.au/geopolymer/
CSIRO Manufacturing & Infrastructure Technology
PO Box 56, Highett
Victoria 3190, Australia
Dr SAGOE-CRENTSIL Kwesi
phone: +61 392526350; fax:+61 392526244
e-mail: Kwesi.Sagoe-Crentsil#csiro.au
web: www.cmit.csiro.au
ANSTO
PMB 1, Menai, NSW 2234, Australia
PERERA Dan
phone: +61 297173477; fax: +61 295437179
e-mail: dsp#ansto.gov.au
Belgium
NAMUR University
Facultés Universitaires de Namur
Prof. DEMORTIER Guy
Département Chimie, Départment de Physique
61 rue de Bruxelles, B-5000, NAMUR, Belgium
e-mail: Guy.Demortier#fundp.ac.be
Brazil
WINCRET Designer Concrete Products Ltda
Prof. Henrique Neves Lefevre, 785
04637-001 Sao-Paulo SP, Brazil
Ing. Roni M. Schmeling
phone: 0xx11-5543-2788; mobile: 11-998819369
e-mail: winblok#winblok.com.br
web: www.winblok.com.br
China
Nanjing University of Technology
College of Materials Science and Engineering
Prof. Xiao Yao, Dr. Zuhua Zhang
no.5 Xinmofan Road, Nanjing, Jiangsu, 210009, China
Phone: 86+25 83587253
Email: htm#njut.edu.cn
Web: cly.njut.edu.cn
Czech Republic
Academy of Sciences of the Czech Republic
Institute of Rock Structure and Mechanics
V Holesovickach 41
182 09 Prague 8
Czech Republic
Prof. Tomas Hanzlicek
phone: +420731165041;
e-mail: hanzlicek#irsm.cas.cz
web: www.irsm.cas.cz
ICT, Dept.of Glass and Ceramics
Technicka 5
16628 Praha 6, Czech Republic
MINARIKOVA Martina
SKAVARA Frantisek
phone: +420 605835342
e-mail: martina.minarikova#vscht.cz
web: www.vscht.cz
Germany
India
Annamalai University
Department of Civil and Structural Engineering
Annamalainagar 608 002, Tamil Nadu,
India
Ph: +91 4144 239732, +91 94431 28028(Mobile)
Contact person – Professor Dr. C. Antony Jeyasehar
email: chellam.ajs#gmail.com
Centre for Advanced Concrete research (CACR)
SRM University,
University Office Building III Floor
Kattankulathur – 603203, near Chennai
N.P. RAJAMANE, Secretary, Indian Concrete Institute, Tamil Nadu Centre,
Retired Head, Advanced Materials Laboratory, CSIR-Structural Engineering Research Centre,
(Ph:+91 44-24417882, Mobile:+91 98400 76821,)
e-mail: rajamanenp#yahoo.co.uk
Jadavpur University
Department of Civil Engineering
Kolkata – 700032
India
Contact person – Professor Dr. Somnath Ghosh
Contact no. – +91 33 2414-6666 ext 2804 ,+91 9831025676
e-mail: som_ghosh2000#yahoo.com
National Metalurgical Laboratory
MEF Division
Jamshedpur – 831 007, India
KUMAR Sanjay, Scientist
phone: +91 6572271709; fax: +91 6572270527
e-mail: sanjay_kumar_nml#yahoo.com
VNRVJ Institute of Engineering & Technology
Department of Civil Engineering
Bachupally, HYDERABAD,INDIA, PIN: 500090
Contact person -Prof.KOLLI RAMUJEEE
mail: ramujee_k@vnrvjiet.in
– Mobile No: 09959894969
Iran
Islamic Azad University
Department of Materials Engineering, Saveh Branch
Saveh, Iran.3
Head group name: Dr. Ali Nazari
phone: +98 255 4233342
e-mail: alinazari84#aut.ac.ir6.
web: www.iau-saveh.ac.ir/en/

Shiraz University

Department of Civil Engineering, Shiraz University, Shiraz, Iran

Dr. Navid Ranjbar
Japan
Yamaguchi University
Department of Advanced Materials Science and Engineering
Ube 755-8611, Japan
IKEDA Ko, Professor
phone: +81 836859630; fax: +91 836859601
e-mail: k-ikeda#yamaguchi-u.ac.jp
Mexico
CINVESTAV-IPN Unidad Querétaro
Libramiento Norponiente No. 2000
Fracc. Real de Juriquilla
C.P. 76230
Querétaro, Qro, Mexico
Dr. Alejandro Manzano Ramírez
phone: + 52 4424414918; fax: + 52 4424414938
email: amanzanor2006#hotmail.com
web: qro.cinvestav.mx
Universidad Michoacana de San Nicolas de Hidalgo
Faculty of Civil Engineering.
Materials Research Laboratory, Mexico
RUBIO-AVALOS Jose-Carlos, Ph.D.
Research Fellow at Faculty of Civil Engineering
Tel./Fax. +52 4433273856
email: jcrubioa#yahoo.com
web: www.umich.mx
Autonomous University of Guadalajara (UAG)
Research Center for Industrial Development
Centro de Investigacion y Desarrollo Industrial (CIDI)
Av. Patria 1201
Lomas del Valle 3a Seccion
Zapopan, Jal, 44100 MEXICO
Dr. Carlos Montes
phone: +52 (33)36488824 ext 2328; fax: +52 (33)36488824
e-mail: cmontesm#edu.uag.mx
web: www.uag.mx
New Zealand
Materials Technologies Group
Industrial Research Limited
PO Box 31-310, Lower Hutt, New Zealand
phone: +64 45690000; fax: +64 45690142
web: www.irl.cri.nz
Victoria University of Wellington
School of chemicla and physicla sciences
PO Box 600, Wellington, New Zealand
Prof. MACKENZIE Kenneth
phone: +64 44635885; fax: +64 44635237
e-mail: kenneth.mackensie#vuw.ac.nz
web: www.vuw.ac.nz
Nepal
Tribhuvan University
Central Department of Chemistry
Kirtipur, Kathmandu
Professor Dr. Vinay Kumar Jha
e-mail: vinayj2#yahoo.com
web: tribhuvan-university
Philippines
De La Salle University
Geopolymers and Advanced Materials Engineering Research for Sustainability (GAMERS) Laboratory.
Prof. PROMENTILLA, Michael Angelo
Head, Waste and Chemicals Management Unit of Center for Engineering and Sustainable Development Research (CESDR), Team leader, GAMERS Lab.
E-mail: michael.promentilla#dlsu.edu.ph;
Phone: +63 02 536 0223; +63 917 545 2243
De La Salle University, 2401 Taft Ave., Manila, 0922, Philippines.
Portugal
Universidade de Trás-os-Montes e Alto Douro
Departamento de Engenharias
Edifício de Engenharias, Apartado 1013
5000-911 Vila Real, Portugal
Prof. TEIXEIRA-PINTO Amândio
phone: +351 259350399
e-mail: yrache#utad.pt
web: www.utad.pt/pt/departamentos/acent/engenharias/
University of Minho
Research Group on Sustainable Construction Materials
C-TAC Research Centre
Azurém , 4800-058 Guimarães , PORTUGAL
Prof. J.L. Barroso de Aguiar
phone: +351 253 510 200 Fax: +351 253 510 217
Email: sec-centros#civil.uminho.pt
web: www.civil.uminho.pt
Spain
AIDICO Instituto Tecnológico de la Construcción
Parque Tecnológico de Valencia
C/Benjamin Franklin 17
46980-Valencia, SPAIN
Dr. LOPEZ-TENDERO María José
phone: +34 9613182 8; fax: +34961318033
e-mail: mlopezt#aidico.es
web: www.aidico.es
United Kingdom
University of Surrey
Faculty of Engineering and Physical Sciences, Chemical & Process Engineering [J2]
Guildford, Surrey GU2 7XH ( UK )
Dr. Pablo García-Triñanes
e-mail: p.garcia@surrey.ac.uk
Phone: +44 (0)1483 689472, +44 (0)1483 686583 http://www.surrey.ac.uk/materials/particle_technology/
USA
University of Illinois at Urbana-Champaign
Department of Materials Science and Engineering
1304 W. Green St.


Urbana, IL 61801




KRIVEN Waltraud, Professor


phone: +1 2173335258; fax: +1 2173332736


e-mail: kriven#illinois.edu

RUTGERS, The State University of New Jersey
Department of Civil Engineering, Rutgers University, Box 909, Piscataway, NJ 08855-0909, USA
Prof. BALAGURU P.,
phone: +1 908445 2232 or 3537(direct); fax: +1 9084450577;
e-mail: dellamur#email.rci.rutgers.edu
U.S. Department of Transportation
Federal Aviation Administration F.A.A.
Dr. LYON Richard
Fire Research Branch, ACD-250, F. A. A. Technical Center,
International Airport, Atlantic City , NJ 08405, U.S.A.
phone: +1 6094856076; fax: +1 6094855785;
e-mail: richard.e.lyon#admin.tc.faa.gov
Rochester Institute of Technology
Department of Mechanical Engineering
76 Lomb Memorial Drive
Rochester, NY 14623, USA
VARELA Benjamin, Assistant Professor
phone: +1 5854754737; fax: +1 5854757710
e-mail: bxveme#rit.edu
Louisiana Tech University
Trenchless Technology Center
600 W. Arizona, Engr. Annex, P.O. Box 10348
Ruston, LA 71272, USA
Prof. ALLOUCHE Erez
phone: +1 3182572852 ; fax: +1 3182572777
e-mail: allouche#latech.edu
web: www.ttc.latech.edu
Geopolymer' 99 International Conference, 1st July 1999, at Saint-Quentin, France.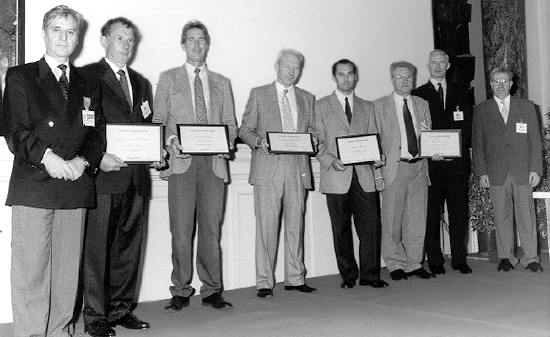 Prof. Joseph Davidovits (left) and S.D. Fürst Hans-Adam II, Prince of Liechtenstein (2nd from right) granted five diplomas to people who greatly contributed to the development and the promotion of geopolymer science (from left to right):
Ing. Jean-Jacques Legrand, a pioneer from 1972 to 1982.
Dr. Richard Lyon (F.A.A.), for his excellent scientific articles in 1996-1998.
Ing. Michel Davidovics and Ing. Bruno Martin (Géopolymère S.A.), for their developments of carbon/geopolymer composites.
Prof. Guy Demortier (Namur University), for its perseverance and support in archaelogical reasearch since 1984.
Chemist Nicolas Davidovits (right) for his involvement in geopolymer manufacture since 1979.
World Congress Geopolymer 2005, 30th June 2005, at Saint-Quentin, France.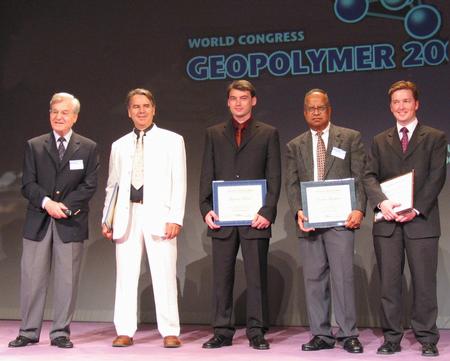 Prof. Joseph Davidovits (left) rewards four scientists in appreciation of their services to the World Congress, and their contributions to the advancement of the Geopolymer Science. The awardees are (from left to right):
Dr. Gilles Hug for his scientific analysis work in archaeology.
Dr. Roman Slavik for his work in geopolymer chemistry.
Prof. Vijaya Rangan for his extensive civil engineering studies with geopolymer cement.
Dr. Grant Lukey (together with Prof. Jannie van Deventer) for their comprenhensive studies in geopolymer chemistry for 10 years.