At the 1980, 1981, 1982, and 1984 Symposia on Archaeometry, Joseph Davidovits showed the possibility of fabricating ceramics by Low Temperature Geopolymeric Setting between 50°C and 500°C. The results obtained with LTGS have been surprising and very interesting from the archaeological point of view, e.g. the fabrication of ceramic whose surface is covered by an intense black color, identical in appearance to numerous prehistoric European ceramics (Dolni Vestonice, 25,000 B.C.) as well as Etruscan pottery of the Bucchero Nero type (630 B.C.) and Impasto marrone (650 B.C.).
Black Paleolithic ceramic (25,000 B.C.)
The Venus of Dolni Vestonice
This oldest ceramic ever manufactured is displayed at the Anthropology Museum, at Brno, Czech Republic. The Venus of Dolni Vestonice was visited by Prof. Joseph Davidovits who writes:
"I still had for my eyes the image of the yellow limestone Venus displayed at the Vienna Museum, Austria, to be very surprised by this one. It was not worked in soft stone, but manufactured out of terra cotta. Thus, I was looking at the oldest ceramic manufactured by Homo Sapiens 25.000 years ago (…) We have been taught that the terra cotta pottery was not invented before the Neolithic Age, 15.000 years later. And yet, I had in front of me an artifact resulting from the use of fire, at a time when, logically, the prehistoric men did not master this technique, according to the teaching of Prehistory."

Venus of Dolni Vestonice (Brno Anthropology Museum, Czech Republic)
The manufacturing technique is connected with another one used 23.000 years later in the manufacturing of Etruscan black ceramics, the famous Bucchero Nero (see below). Joseph Davidovits and Frédéric Davidovits have replicated this ultra simple technology, in their garden, at Saint-Quentin (see below).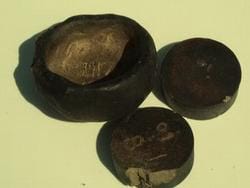 Trials on black terra cota (LTGS) by J. Davidovits and F. Davidovits , 1999
Etruscan Ceramic, Bucchero Nero (750 B.C.)
The Etruscan civilization florished in Italy before the creation of the Roman Empire (Tarquinia, Cerveteri, Orvieto, Veio, Chiusi).

Etruscan Bucchero Nero vase (Louvre Museum)
The manufacture of Etruscan black ceramics, the famous Bucchero Nero, was presented at the 2nd International Conference on Geopolymers, in 1999. In the recently updated book Geopolymer Chemistry & Applications, archaeological ceramics are thoroughly outlined in Chapters 17 and 20. You may also go to the Geopolymer Library and download several papers.