Technical paper # 23 GP-AIRPORT in our Library
Last year (October 14, 2014), our News was titled 70,000 tonnes Geopolymer Concrete for airport; it presented company Wagners' newly developed geopolymer concrete EFC in the construction of the Brisbane West Wellcamp Airport (BWWA), Toowoomba, Australia, which became fully operational with commercial flights operated by Qantas Link in November 2014. BWWA was built with approximately 40,000 m3 (100,000 tonnes) of geopolymer concrete making it the largest application of this new class of concrete in the world. The geopolymer concrete, known as Earth Friendly Concrete (EFC), was found to be well suited for this construction method due to its high flexural tensile strength, low shrinkage and workability characteristics. Heavy duty geopolymer concrete, 435 mm thick, was used for the turning node, apron and taxiway aircraft pavements, and cast in place with the slip form paving machine displayed below.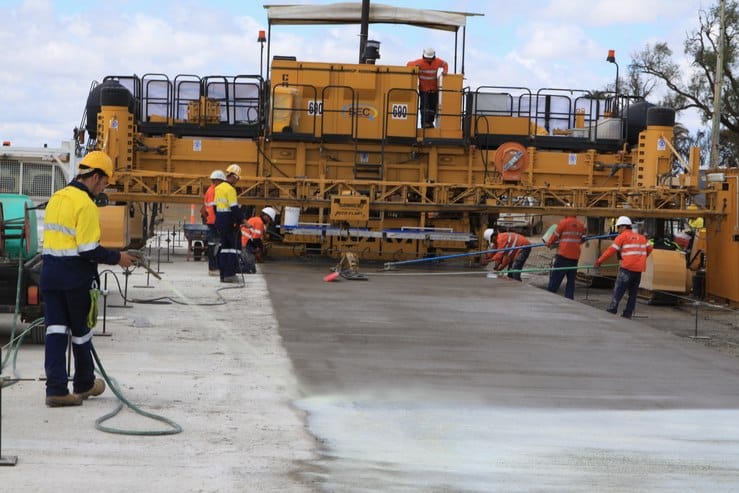 EFC Geopolymer Concrete Aircraft Pavements at Brisbane West Wellcamp Airport.
by Tom Glasby, John Day, Russell Genrich and James Aldred.
Paper presented at Concrete 2015 Conference, Melbourne Australia 2015.
CONTENT
1. Introduction
2. Project Outline
3. Geopolymer Concrete Mix
4. Geopolymer Concrete Production and Supply
5. Geopolymer Concrete Pavement Construction
6. Commercialisation of Geopolymer Concrete
7. Conclusion
References
Click here to see how to download paper nr 23 GP-AIRPORT.