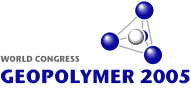 WORLD CONGRESS GEOPOLYMER 2005
Buy online the Geopolymer 2005 Proceedings
at The Geopolymer Shop (ISBN 2-9514820-0-0)
As a tribute to Prof. Dr. Joseph Davidovits' 70th birthday in 2005, and the 25th anniversary of the first geopolymer patents, (Na-K)-PSS types, we decided to organize the GEOPOLYMER 2005 WORLD CONGRESS. It gathers two major events in two different locations:
1) Fourth International Conference
Saint-Quentin (North of Paris), France, June 29, 30, and July 1, 2005
2) International Workshop on Geopolymer Cements and Concrete
Perth, Australia, September 28-29, 2005
80 conferences were presented with more than 180 attendants from 30 countries around the World.
The main topic of the conference was Geopolymer-chemistry and sustainable Development. The Poly(sialate)terminology, a very useful and simple model for the promotion and understanding of green-chemistry.
The last few years have seen spectacular technological progress in the development of Geosynthesis and geopolymeric applications. More and more public and private research institutes and companies are working on this new chemistry for innovative solutions in adding value on industrial wastes, or solutions to emit less pollution, more careful on the environment and mankind, respecting the sustainable development and the 3 bottom line principles.
A high-tech ecological, environmentally friendly chemistry exists, we have to say it to the world!
Download the comprehensive program of the Fourth International Conference
Download the comprehensive program of the International Workshop on Geopolymer Cements and Concrete