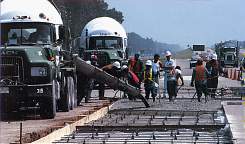 Message:
Professor Joseph Davidovits,
I recently purchased your latest book and have read a number of your papers and learned that I have you to thank for Pyrament Cement.
My first experience using Pyrament was about 23 years ago when we were the first to use it to replace damaged concrete on runways and taxiways at the Atlanta airport. We used it until it was no longer available and have never found a material quite as good. You might be interested to know that a major aircraft runway intersection at Charleston Air Force Base, in South Carolina, was replaced with a concrete mix using Pyrament Cement about twenty years ago. I just learned that they are going to remove and replace one of the runways but the intersection is still in such good condition that
they are leaving it in place. A nice tribute to your invention!
……………….
Further information on the Charleston Air Force Base Project…It was Completed in 1989 and the contractor was Summers Concrete Contracting, from Hahira, Georgia. In 1991, a full runway was replaced at Barksdale Air Force Base, Louisiana, by the same contractor, using concrete made with PYRAMENT cement. Twenty years later, that runway is still being used by US Air Force B52 bomber aircraft. Please use this information as you wish.
David L. Barton, Chairman, Prime Resins, Inc., www.primeresins.com