UPDATE: They did it ! Read about their fantastic journey below.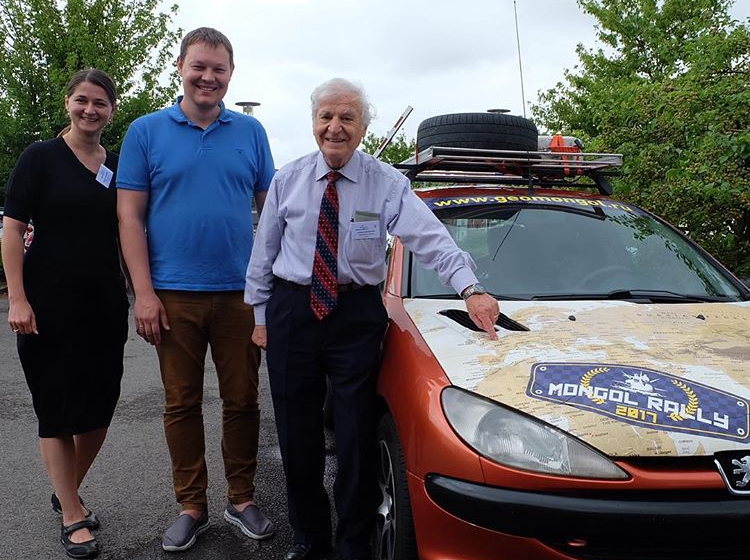 The Geopolymer Institute is proud to sponsor the GeoMongol Rally Team. Liza, Marina and Andrey Dudnikov left the Geopolymer Camp and Saint-Quentin on Thursday July 13 (see on the photo with Prof. J. Davidovits). These Russian geopolymer experts and entrepreneurs are participating in the 2017 Mongol Rally, an 8-week, 16,000 km long crazy adventure departing from London, UK, on the route through several European and Asian countries.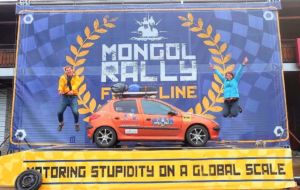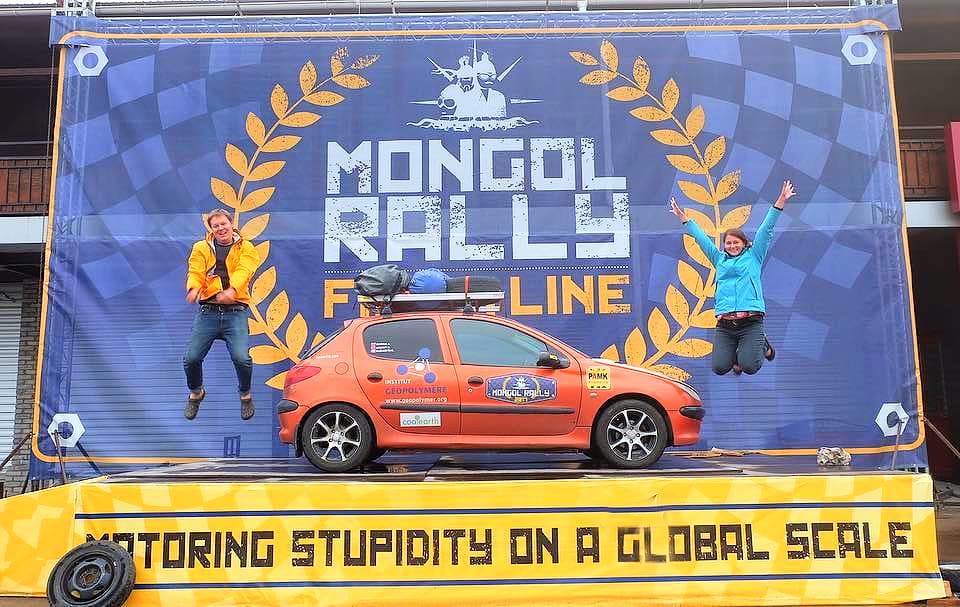 Follow them and support their journey on Instagram #geomongol and read more on the GeoMongol website (read all details and buy stuffs to help raising money for charity). Track the itinerary in real time at mongolrally.iridium360.ru
After 6 weeks and 18700 km, they did it ! But they have to come back !!! In total, they travelled 26500 km (from Tcheliabinsk, Russia, to London, UK, then London, UK to Oulan-Bator, Mongolia, then back to Tcheliabinsk, Russia) and crossed 21 countries. What an adventure. And they made some geopolymer concrete too…
You may wonder who they are ?
The Dudnikovs (Marina Dudnikova + Andrey Dudnikov), together with Italian expert Alex Reggiani,  have created the company Renca in Russia to market true geopolymer cements all over the world (they are presently focusing on Dubai). They refuse to fall into the trap of cheap, low-tech, bad quality alkali-activated cements. They made the choice of manufacturing high quality geopolymer products with selected raw materials. Therefore, they are developing innovative geopolymer cement processes with in-house designed equipment. They don't target at all-purpose mass markets, but into problem solving applications, yet with easy to implement solutions. For example, they are commercializing special geopolymer concretes for 3D printing (together with ApisCor), or designing an innovative Mobile Automatic Mixing System for manufacturing geopolymer concrete on the construction site, or offering a smart solution for fire protection in buildings with sprayed geopolymer foam, or passive cooling and reducing air conditioning energy…
They are pioneers like the Wagners in Australia, willing to seize opportunities and true entrepreneurs willing to take risks. Their participation to this eccentric and fascinating rally illustrates their mindsets. The Geopolymer Institute sticker on their car will travel through Europe and Asia.