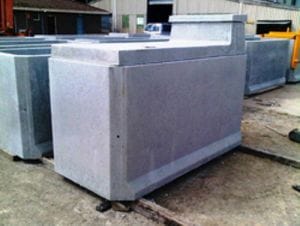 The Australian company ROCLA, one of the pioneers in geopolymer precast concrete for commercial production, issued the following news in dec. 2011:
In a display of industry-leading technology and innovation, Rocla has recently debuted its latest, award-winning capability – the successful use of geopolymer materials in commercial scale production. While many of its competitors have tried to produce geopolymer products on a large-run scale, Rocla is the first to successfully bring a product to market, and also the first to have the stand-alone capability to do so. With the environmental benefits of geopolymer technology destined to bear fruit for future generations, the nature of Rocla's first commercial-scale product is a little ironic; their 'world first' production run, which was undertaken in Canberra, involved the production of 3,000 components for a customer's patented crypt system to be supplied to the Woronora Cemetry Trust in Sydney.
The project required 2500 tonnes of geopolymer material, which was used to manufacture three different crypt components, each finished to a high standard, and exacting dimensions. While the client was delighted with quality of the end product, mastering the art of working with geopolymer did present some challenges for the Rocla team to overcome.
"Getting a perfect finish on each component required a lot of dedication and hard work from our team – right from the R&D phase through to the manufacturing and finishing, we've worked incredibly hard to bring this project to fruition and produce a top quality product", says Wayne McGovern, Rocla's ACT Area Manager. With a delighted client now eager to extend their use of the new crypts, the team's efforts have undoubtedly paid off and they are now looking towards the future to extend the range of geopolymer products they are able to offer. Adding to the buzz surrounding the product is its recent win at the prestigious, international Fletcher Building Innovation Awards, which recognise Fletcher Building's business units that excel at innovating. The geopolymer project took out the top prize for best use of technology in innovation in early November.
I first visited ROCLA in Sydney 12 years ago, in January 1999. The company wanted to develop geopolymer-based sewage pipes. Rocla's scientists J.T. Gourley and G.B. Johnson, presented their results at the Geopolymer' 2005 conference in Saint-Quentin (Development in geopolymer precast concrete, pages 139-143 in the Proceedings).
With this new application, it is the second commercial success for a Geopolymer 2005 conference participant. I already mentioned the first one in my Geopolymer Camp keynote "State of Geopolymer 2012", last July: half a million geopolymer pavement bricks manufactured in India under the supervision of Sanjay Kumar from Council of Scientific & Industrial Research, Jamshedpur, India.
Congratulations.
For Rocla go to : Rocla's Website
For Sanjay Kumar go to GeopolymerCamp 2012
and watch the video Keynote 'State of the Geopolymer R&D 2012' at time 00:30.30
Prof. Joseph Davidovits