Since 1985, French and English nuclear power stations equipped theirs plants with air filters produced by Sofiltra-Camfil, a French company, in which joints and dust free sealants are made of geopolymer, providing a safety cover up to 500°C. Source: Sofiltra-Camfil patent
Geopolymer insure thermal protection of industrial buildings and facilities up to 1200°C. Hüls AG (Dynamit Nobel) and its licensees, including Willig, have invented the TROLIT-WILLIT material known as the "mineral plastic" involved in the manufacture of:
Expanded foam
Monolithic compound
Composite
Sources: Annual reports. In the recently updated book GEOPOLYMER Chemistry & Applications these geopolymeric applications are outlined in Chapter 22.
Geopolymer composite material for structural or protective applications, temperature range 300°C to 1000°C.
These peculiar materials are now tested and used for their outstanding properties.
During the Grand Prix season 1994 and 1995, Benetton-Renault Formula 1 Sport Car designed a unique thermal shield made out of carbon/geopolymer composite. It helped Michael Schumacher to win twice the world championship and offered to his technical team to become World Champion of car builders during these two years. Still today, most Formula 1 teams are using geopolymer composite materials. A geopolymer-composite exhaust pipe system has been developed by Porsche. Source: Porsche PCT Patent, 2004.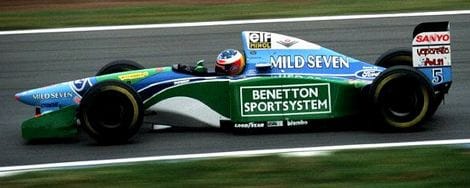 The Federal Aviation Administration (F.A.A.), Rutgers State University, U.S.A., and other Institutions have initiated an evaluation program for these new composite materials. These materials would contribute to be the standard in fire protection for the aeronautic industry. In the recently updated book Geopolymer Chemistry & Applications the fire and heat resistant composite applications are thoroughly outlined in Chapter 21. You may also go to the Geopolymer Library and download several papers.
The First Non-flammable fabric laminate for Aircraft cabin and cargo interiors, geopolymer Composite was introduced on November 18, 1998, in Atlantic City, NJ, USA, at the International Aircraft Fire and Cabin Safety Research Conference sponsored by the Federal Aviation Administration.
For other Fireproof, Fire Resistant Applications (ship, ferry), see also in GEOPOLY-THERM .