GEOPOLYTECH: Toxic and Radioactive Waste Management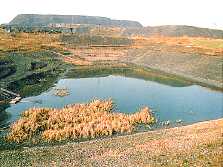 The patented GEOPOLYTECH technology is based on the use of geopolymer binders. The GEOPOLYTECH technology could provide a safe and proven method for the encapsulation and long-term containment of toxic, hazardous, and radioactive sludges from decantation ponds and pasty wastes (filter cakes) from water treatment facilities. The technology is presently applied in Germany by B.P.S. Engineering .
The patented GEOPOLYTECH technology provides excellent retention for highly toxic elements, including:
heavy metals
uranium
radium
arsenic
hydro-carbons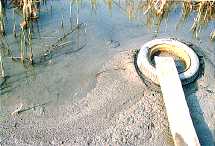 Like vitrification, the GEOPOLYTECH technology offers:
high strength
acid resistance
long term durability
geological analogues
archaeological analogues
But unlike vitrification, the GEOPOLYTECH technology does not require energy-consuming drying and melting.
GEOPOLYTECH can be produced with inexpensive Geopolymer binders or cements. GEOPOLYTECH requires only simple mixing equipment. GEOPOLYTECH is produced at room temperature.
Scientific background
In the recently updated book Geopolymer Chemistry & Applications, Toxic and Radioactive Waste Management applications are thoroughly outlined in Chapter 26. You may also go to the Geopolymer Library and download several papers.
Laboratory and pilot-scale studies
The European research project GEOCISTEM successfully tested this technology in various research projects performed for the German company WISMUT GmbH. The testing was conducted to rehabilitate uranium mining sites in former East Germany, where the contaminants included uranium, radium, hydro-carbons, and arsenic.